Monte-Rosa Matterhorn Panorama 1
Monte Rosa, Dufourspitze, Monte Rosa Gletscher, Grenzgletscher, Lyskamm, Zwillingsgletscher, Breithornzwillinge, Breithorn, Kleines Matterhorn, Matterhorn
---
| | |
| --- | --- |
| Location | Gornergrat, Zermatt |
| Motive | Monte Rosa, Dufourspitze, Monte Rosa Gletscher, Grenzgletscher, Lyskamm, Zwillingsgletscher, Breithornzwillinge, Breithorn, Kleines Matterhorn, Matterhorn |
| Area/ Country | Valais |
| Photographer | Stefan Bracher |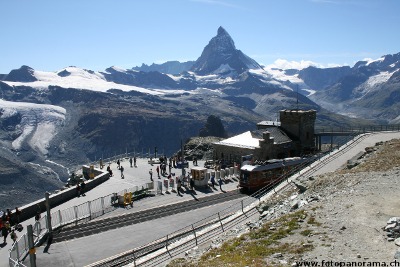 Gornergrat Train Station and Matterhorn (2008)
Monte-Rosa, Matterhorn and Gornergrat.
The Dufourspitze (Dufour's Peak) is, with an elevation of 4,634 meters above sea level (15,203 ft), the highest point of Switzerland. Switzerlands most famous landmark however, is the Matterhorn. Both are located in southern Switzerland, right on the border between the Swiss Canton of Valais and Italy.
The Gornergrat (Gorner Ridge) offers a great view over the whole Monte-Rosa mountain chain, the Monte-Rosa Glacier, the Breithorn and the Matterhorn. Since 1898, a train brings tourists from Zermatt to the ridge at 3'135 m (10,285 ft) altitude. Apart from offering a great view of the alps, the Gornergrat is also the center of the skiing station with the same name.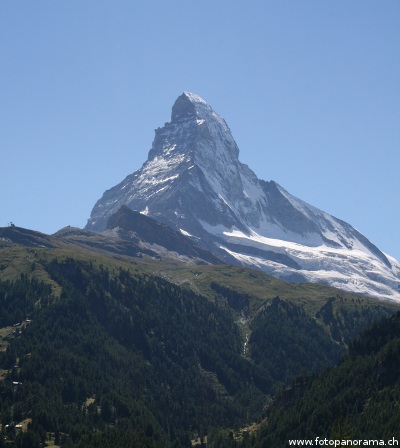 The Matterhorn, seen from Findelbach (2008)
Zermatt
The town in the valley next to the Matterhorn is called Zermatt. Located at 1608 meter above sea level (5276 ft), the town can only be reached by train. From Visp, regional trains of the Matterhorn-Gotthard Railway bring the visitors to Zermatt. Those travelling by car, have to park their car at Täsch, 6 km before Zermatt, and take a Shuttle-Train.
Zermatt is as well the starting point of the Glacier Express. This meter-gauge train crosses the Swiss Alps in a bit more than 7 hours and connects Zermatt with St. Moritz.
The panoramic picture
The picture was taken in 2008 at the Gornergrat. It shows the Monte-Rosa mountain chain from the Dufourspitze to the Matterhorn.
More information
---
/ Terms of use /
/ Valais /