Monte-Rosa Matterhorn Panorama 2
Monte Rosa, Dufourspitze, Monte Rosa Gletscher, Grenzgletscher, Lyskamm, Zwillingsgletscher, Breithornzwillinge, Breithorn, Kleines Matterhorn, Matterhorn
---
| | |
| --- | --- |
| Location | Gornergrat, Zermatt |
| Motive | Monte Rosa, Dufourspitze, Monte Rosa Gletscher, Grenzgletscher, Lyskamm, Zwillingsgletscher, Breithornzwillinge, Breithorn, Kleines Matterhorn, Matterhorn |
| Area/ Country | Valais |
| Photographer | Stefan Bracher |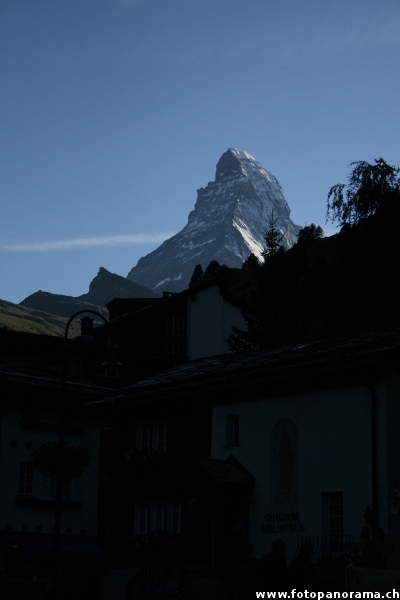 The Matterhorn seen from Zermatt (2008)
The glaciers
Flowing down the Monte-Rosa, the Gorner Glacier and the Grenzgletscher meet near the Gornergrat. Together, they build one of the largest glacier fields in the Alps, second only to the Aletsch-Glacier. The glacier travels towards Zermatt in the valley between Gornergrat and Breithorn.
The two glaciers at the Breithorn in the middle-left part of the picture, are the so called Twin-Glaciers (Zwillingsgletscher).
Lyskamm, Breithorn, Small Matterhorn
This mountain chaine forms the border between Switzerland and Italy. The Lyskamm has an elevation of 4'527 m (14852 ft), the Breithorn 4'164 m (1366 ft) and the Small Matterhorn (Klein Matterhorn) 3'883 m (12740 ft) while the Matterhorn itself is located 4'478 meters (14692 ft) above sea level.
An aerial tramway connects Zermatt with the Small Matterhorn. The skiing station is open the whole year, because the snow never melts at this altitude. From the top, it is possible to cross to Italy on skis.
The Matterhorn
The Matterhorn, or in Italian Monte Cervino, is probably to most photographed mountain in Switzerland. With its Toblerone-Shape, it is very easy to recognise. As the other mountains of the region, the Matterhorn was formed by the collision of the African and the European tectonic plates. The rocks of the Matterhorn are formed by the African plate. Thus, geologically speaking, the Matterhorn belongs to Africa.
The Panorama
The picture was taken in the summer of 2008, below the Gornergrat Train Station (visible at the right side of the photo). During winter, the location is covered by a skiing run.
More information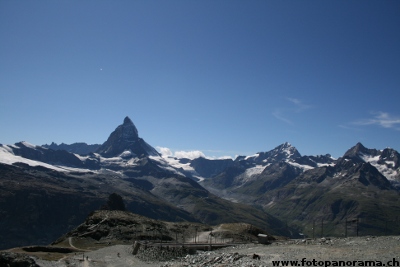 Matterhorn and Gabelhorn seen from Gornergrat (Summer 2008)
---
/ Terms of use /
/ Valais /